When I was a kid, I was given a notebook for Christmas nearly every year. In fact, I think every year. This particular year, the notebook flipped over the top of the page with a top-bound spiral. Kind of like detective notepads. I wrote stories and letters and lists and I can't remember what else in there. I do remember writing down a list of my friends, however. Fatefully, about eighteen months later, a newer one my friends found this notebook. We were good enough friends to let each other flip through our stuff, the real test of 10-yo-friendship. Until yeah. She found the list. And she wasn't on it.
Thankfully I think she believed me when I told her I didn't, or barely, knew her at the time of writing it, and I quickly jotted her name at the bottom of the page, and today she is one of my closest friends, but lesson learned, don't write lists of friends, okay? It could get ugly!
And with that, here are five other things I've learned about friendships:
Become friends with older people. I don't necessarily mean old people, just people… older than me. In my story, part of this was not by choice: there was next to no other youth, or none that I wanted to hang out with. I spent a lot of time with a group of young mums in their twenties and thirties at mainly music, an energy-loaded family playgroup. They were so kind and gracious to this shy 13-yo who didn't know how to unleash her bubbly awesomeness with her mouth. They became my friends – they hung out with me, invited me to dinner and baby showers, included me in conversations, and discreetly helped me with Awkward Central. They weren't 'comparing notes on what we want to be when we grow up' friends, but we were still friends.
And today, some of my closest friends have been five to twelve years older than me. Sometimes it started out as a mentoring relationship where we had way too much fun, and sometimes it was just that we clicked. I think that's the main factor in friendships: if we get along with each other, it shouldn't matter the age difference between us, or whether one of us is married and has kids. The same goes for people younger than me; I'm thankful for the friends eight years my junior who laugh and teach me stuff, too. We like each other, and that's what counts. (Don't mess it up like Joey and Chandler did with Richard, okay?)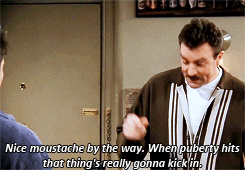 Become friends with siblings. No my siblings and I have not, and still do not, always get along! My sister's messiness can drive me up the wall and my brother's incessant talking gives him the glare sometimes, and I'm sure they've torn their hair out at my intense bossiness. But they are my family, and the good times (the memories of singing in the car, of sword fights, the times we fight wit with references to movies like it's nobody's business) outweighed the temptation to not count as friends these actually pretty cool people, who would do anything for you. That's another sign of a good friendship, regardless of who they are. A few weeks back, my sister and I went out for lunch at talked about boys (I'm hoping the couple next to us were backpackers who didn't understand much English) and my brother just had to share online my other brother's photo of graduating from TAFE. It's so nice to know we have each other's backs.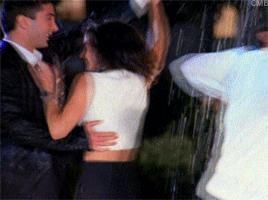 Friends sit in different rings around you. Some friends are in the inner ring, and some are on the outside ring, just inside the 'acquaintance' ring. That's okay. There isn't really a right or wrong, so long as we don't let it go stagnant without a good reason. Friendships, or most types of positive relationships, are built on trust, and I've experienced that standoffishness probably isn't personal, but trust is earned, not given. I always want to be vulnerable, honest, and spontaneous in my friendships with people, open to them, but it simply takes time to learn each other's story and wiring, who they are, and if I can trust them to value who I am. I've learned to recognise that so-and-so currently sits here on the map, but I'd like to get them closer over here. And it doesn't just apply to deep friendships, either – it takes me at least, time to build 'laughing over nothing' friendships and 'constructive criticism over my music' friendships and 'rock up for dinner however you are' friendships. Little bit by little bit they will get closer – each conversation counts, if you let it – but in the meantime, each relationship has its place on the map, wherever that may be.
(best I could come up with, having too much fun with the FRIENDS gifs here).
Friendships are about give and take. I've had a friend whom I really wanted to kick in the shins because they were depressed and feeling sorry for themselves, but I didn't, because despite my annoyance at their Eyeore behaviour, I was really glad they had actually turned up, rather than stay at home alone. I've learned that sometimes friendships require more giving than taking, and it can feel like a one-way street. I can be one of those friends too! What I'm learning, however, is to be conscious of my needs and let it out with a few people, not everyone, and not with those people all the time. Sometimes, the friendship calls for some lightheartedness to let fresh air in the room and get perspective, to remember why we like each other (for each other's wisdom and their silliness). It can be unhelpful to talk about my problems with everybody, too, and doing different things with different people, listening to their problems and silly stories, helps me get perspective and stop feeling sorry for myself. These people have lives and needs too. Essentially; be honest, but be an energy-giver, too.
This gif has nothing to do with the above statement, in fact it says the opposite, but it was the best line in season one.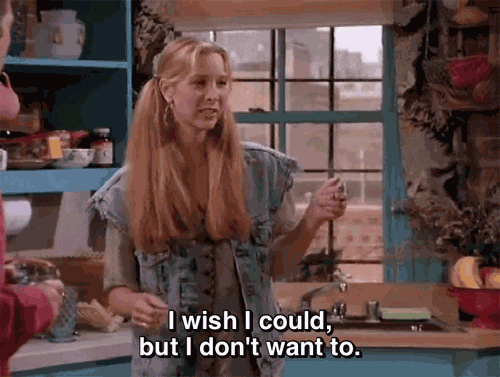 Sniff out a friend's love language. Because it is really awkward if you hug a non-huggy person, even if they are my friend. And I can totally make their day if I surprise them with a present. You can check out http://www.5lovelanguages.com/ for more information.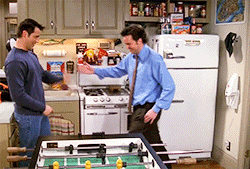 What is something you have learned about friendships? Share in the comments below and remember, it's probably not a good idea to write down lists of your friends where others can find it.* 😉
*oh wait, that's facebook.